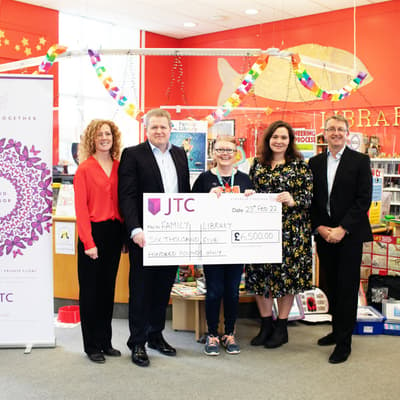 Financial sector fund staff raise funds for the family library
Trust and Business Services staff at JTC's Douglas office have raised £6,500 to support the work of the Island Family Library.
The fundraising efforts were part of the group-wide 'Maximizing Potential' initiative, which saw more than 1,000 employees across 20 locations undertake fundraising activities towards the end of 2021, aimed to support local educational charities.
Raising the total, the 22-person Isle of Man team was proportionately the company's largest fundraiser, with employees organizing or taking part in a range of activities including a Christmas raffle, a "bake off", casual days, a book sale, game night and the Santa Dash.
In addition to their own fundraising efforts, the Isle of Man team received an additional £500 from the company in recognition of being proportionally the "top fundraisers" in the group.
In total, the initiative has raised more than £86,000 for worthy causes around the world, thanks to a combination of an original JTC donation, employee fundraising and the company's matching program. company of JTC.
Donations are now used to support specific regional initiatives and projects undertaken by educational charities, selected by employees of these sites.
Funds raised by the Isle of Man JTC team will specifically support the Family Library's science and education programme, including its Saturday morning science club where youngsters can take part in science activities to advance their early understanding. from subject.
Sue Jolly, Family Library Manager, said: "We are so grateful to the team at JTC. The delivery of our science and education program is based on our belief that this is a critical area of ​​learning for young people, and the support JTC has shown through this donation will enable us to roll out this program. vital and to give young people access to it as much as possible.
"We are excited to work together on this initiative, and others in the future as well."
Aidan Davin, Managing Director of JTC Isle of Man, added: "I'm really proud of the team. In true JTC spirit, they all came together and raised an impressive amount for the family library, which we hope will make a big difference to the role it plays in the community.
"Of course, we are delighted to have been recognized as the biggest fundraisers compared to our other offices, but we also want it to be about building a relationship with the family library as well.
"We look forward to working together and supporting specific initiatives led by the library over the coming year."